Comics Tagged :
ham
A Very Specific Task
Strip Info
Title

A Very Specific Task

Date

June 19, 2022

Tags

beach, cauliflower, Dani, fences, gross, ham, Kevin, paint, pale, Ranch dressing, sunscreen, vacation, white people, yogurt
Transcript
Panel 1 : Int. Room – Day

Dani stands smiling, holding a bowl of ranch dressing in one hand and a full head of cauliflower in the other. She's just dipped the cauliflower in the ranch.

Caption

Dipping a head of cauliflower in ranch dressing

Panel 2 : Ext. Yard – Later

Wearing overalls, Dani stands in front of a tall white picket fence. She holds a brush of white paint. A bucket sits on a stepladder nearby. Dani shrugs.

Caption

Painting a white fence white

Panel 3 : Int. Kitchen – Later

Dani stands at a kitchen table. On the table is an open container of plain yogurt. Next to it is large uncooked ham. Dani massages the yogurt into the skin of the uncooked ham. She looks disgusted.

Caption

Massaging yogurt into an uncooked ham

Panel 4 : Ext. Beach – Later

Dani on the beach, equally disgusted look on her face. But now, she's applying sunscreen to Kevin's back.

Dani

You're right – nothing could've prepared me for this.

Kevin

Sorry.
Bird In The Hand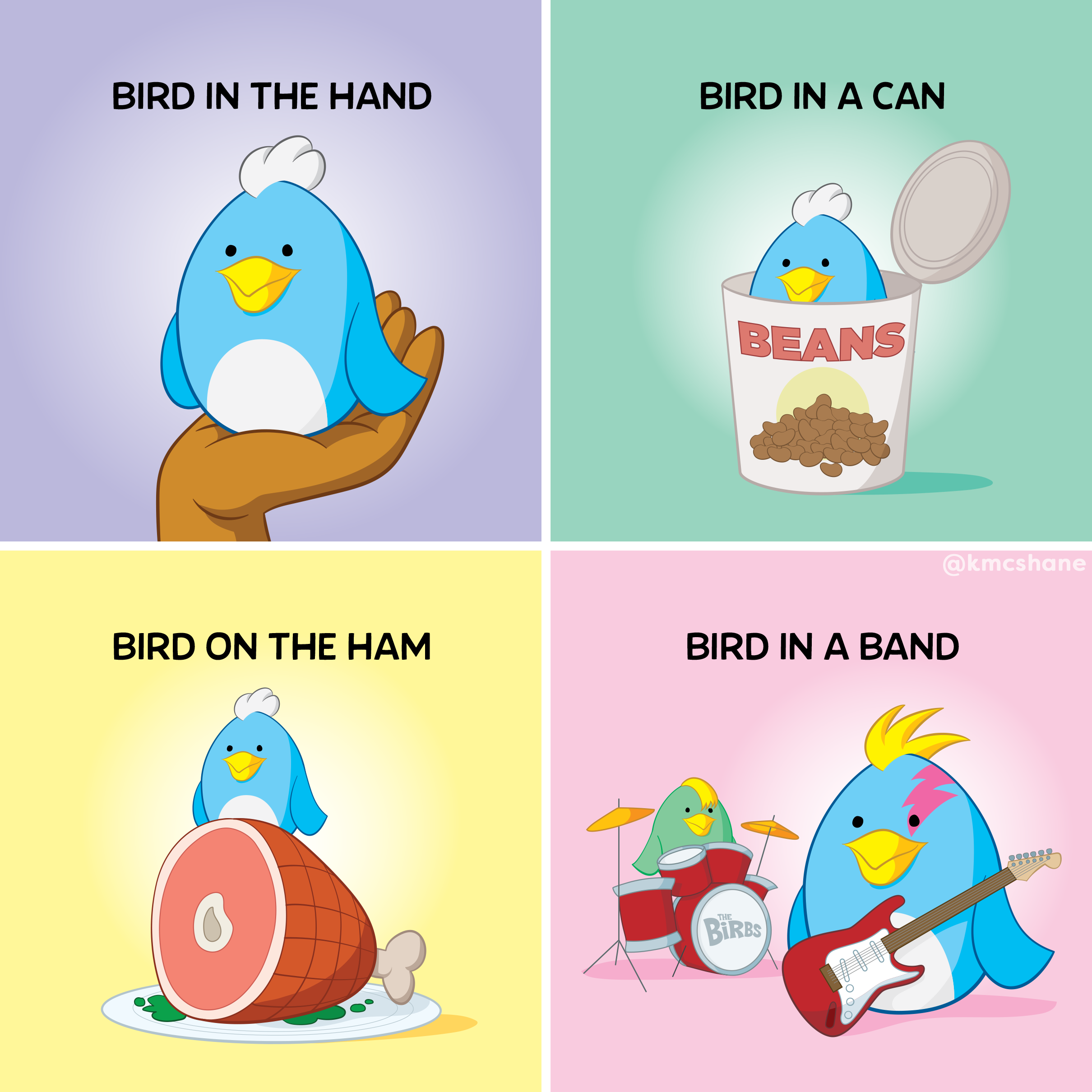 Strip Info
Transcript
Panel 1 : Int. Void – Day

A cute blue bird with a white tuff on its head sits in a person's hand. It smiles.

Bird in the Hand

Panel 2 : Int. Void – Day

The same bird sits in an open can of beans.

Bird in a Can

Panel 3 : Int. Void – Day

The same bird sits on top of a giant, cooked ham.

Bird on the Ham

Panel 4 : Int. Void – Day

The same bird holds a red guitar. Over its left eye is painted a pink bolt of lightning. It's white tuft has been replaced by a blonde, spiky mohawk. Behind it is a red drum set. Seated at the drum set is another cute bird. This one green with a floppy blond mohawk. On the kick drum of the drum set is written the band name: "The Birbs."

Bird in a Band