Comics Tagged :
mental health
Full Disclosure
Bonus Panel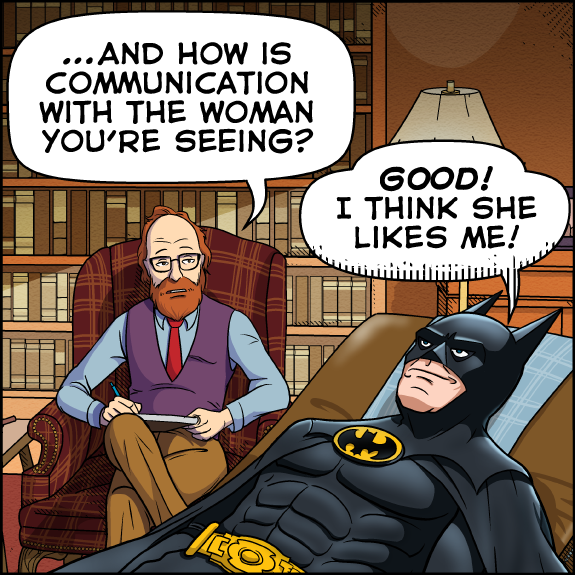 Strip Info
Title

Full Disclosure

Date

August 27, 2023

Tags
Transcript
Panel 1 : Ext. Gotham City – Day

Catwoman straddles a prone Batman. With a sly smile, she traces her finger across the bat-symbol on his chest.

Catwoman

So tell me… what's the Big Bad Bat really afraid of?

Panel 2 : Ext. Gotham City – Continuous

A close-up on Batman. He looks… sad?

Batman

Honestly? I'm afraid that, if I fully process my childhood trauma and grief… I'll lose my motivation to fight crime.

Panel 3 : Ext. Gotham City – Continuous

A close-up on Catwoman. She looks away in discomfort as Batman continues.

Batman

…And since crime-fighting is such a big part of my identity, I'm afraid losing it will change how I define my masculinity.

Panel 4 : Int. Catwoman's Hideout – Later

Catwoman sits on the couch of her hideout, looking out the window, concerned. Behind her, Poison Ivy leans over to gossip.

Poison Ivy

Sooo… how's it going with Batman?

Catwoman

Honestly, it's been a bit heavy since he started going to therapy…

Bonus Panel : Int. Therapist Office – Later

In full costume, Batman lies on the couch of his therapist's office. Behind him, in a plush chair, his kindly therapist takes notes.

Therapist

…And how is commmunication with the woman you're seeing?

Batman

Good! I think she likes me!